NOTICE: RODENT (MOUSE) RACING NOW BANNED IN MANY JURISDICTIONS. Rodents in locations serving food must be approved by your Health Department.
Due to changing Health Department and animal abuse considerations, Amerevent has replaced its live animal rodent racing systems with new, futuristic BUGBOT racers. All the fun with incredible living movement!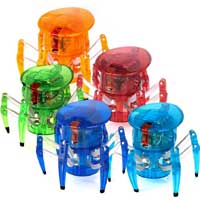 Radio controlled BUGBOT racers with incredible living movements! No more health department issues or mishandling of animals. 36 of your party goers can participate! More fun, more action! Great action!
Thoroughbred racetrack betting at it's futuristic craziest! The wagering is fast and furious. Great by itself or as a casino party add-on. RUN FOR THE ROSES, invented by one of the Amerevent companies back in 1985, has been steadily improved it to make it animal friendly and a great crowd pleaser! Includes racing forms, betting slips and announcer/handler to run the races. Six elimination races and a final championship race!
Customize you own betting slips with our easy to use full-color, fill-in race form! Name the races after your organization and the racers after your guests! It's FREE with every package! Deluxe race track, 6 trained radio-controlled racing bots (each run 6 races), track rules, announcer script and PA system. A great event at a great price! Use your own announcer or one of our professionals (additional cost).